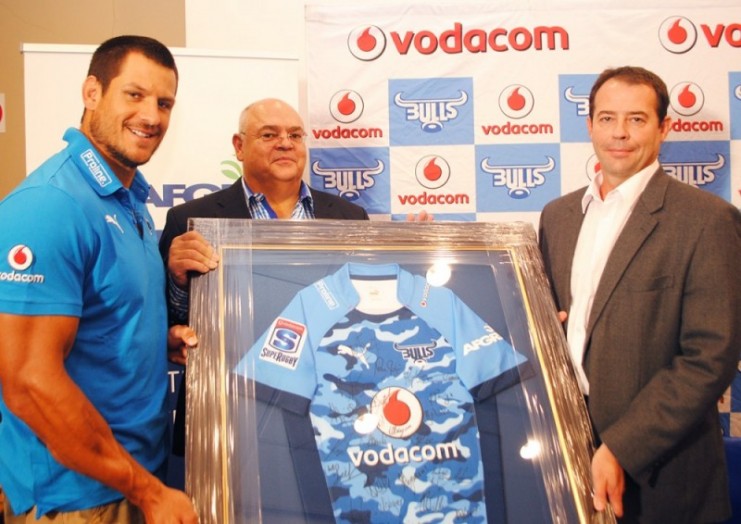 AFGRI, the leading South African agricultural services and diversified foods group, announced on 29 January 2014 their active participation in the sponsorship of Blue Bulls rugby in South Africa.
Chris Venter, CEO of AFGRI, said at an official Blue Bulls Company (Pty) Ltd press conference today that AFGRI is pleased to be associated with a winning culture.
Blue Bulls CEO Barend van Graan is pleased to welcome AFGRI on board
"I would like to take this opportunity to welcome the AFGRI team to the Vodacom Bulls family. We look forward to working with you both on the field and off as we strive to grow and improve the game on a professional level as well as community development level by creating opportunities for young rugby players."
AFGRI draws its history in South Africa back 90 years and so too the Blue Bulls are no strangers to transformation, tenacity and a fighting spirit. The Blue Bulls hold no less than 23 ABSA Currie Cup titles in South Africa and three titles in the Super Rugby competition which has been in place since 1996. This approach to winning appeals to AFGRI since the sponsorship will also contribute towards sport, player and community development some of AFGRI's areas of operation.
https://www.afgri.co.za/wp-content/uploads/2015/01/Afgri-jersey-handover-e1426243067307.jpg
524
741
Lynne Bothma
https://www.afgri.co.za/wp-content/uploads/2013/04/AFGRI-Logo.jpg
Lynne Bothma
2014-01-29 18:08:06
2014-01-29 18:08:06
AFGRI sponsors Blue Bulls rugby