Steyn shifts focus from Bok kicks to Be that Dad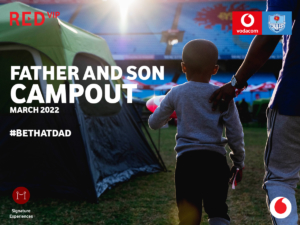 Morné Steyn had just come back from training with the Vodacom Bulls. He was still in his training kit when he went into the backyard with his two young boys. They'd given him a challenge – two forward somersaults on their trampoline. Steyn ran with that challenge like a pop pass from Marcell Coetzee and pulled it off to perfection. Why? Because he's determined to "Be That Dad".
That's the spirit one of the most decorated Springboks in history is bringing to his life beyond the green and gold. And that's also the spirit Steyn will bring to the 2022 Vodacom RED Father and Son Campout at Loftus Versfeld on the weekend of 5-6 March, when dads and their lads will take their shared love of rugby and build their bonds to be stronger than a Vodacom Bulls front row.
And such is the strength of the bond between Steyn and his sons that it played a major role in his decision to walk away from his Springbok family, and spend more time with his real family.
"It was a good time for me to finish it off. In 2009 I started with the British and Irish Lions series, and I finished off again with them. It was just a nice circle to finish the whole thing off," Steyn says of this decision.
"My sons are now starting all of their school sport and it's cricket and rugby matches now for them. It's going to be great to be able to watch some of their games, and just to spend more time with my family in general."
Steyn's Vodacom Bulls family will still be very much in his plans though.
"I've signed another year with the Vodacom Bulls so I'll be involved there until June 2023. That will keep me busy and sharp and able to keep up with youngsters. I just want to enjoy my rugby at the Vodacom Bulls. I have maybe two years left in me, and then I'll probably be finished. We have a great team vibe at the Vodacom Bulls. There is a bright future for this team in the Vodacom United Rugby Championship. It honestly feels like we're back at that stage of Vodacom Super Rugby from 2007 to 2010 where we're building up a nice team. I think there is a great balance between the youngsters and experienced players like myself and Bismarck du Plessis and Marcell Coetzee. And I just want to enjoy my time there."
But for now, Steyn wants his greatest focus to be on his role as a father. In an era when men are constantly being told to "Be All You Can Be", Steyn has chosen to "Be That Dad". That dad who shows up. That dad who stands on the sidelines of a school rugby field and helps his boys kick for posts. And who maybe also lends a hand to a few other boys who'll inevitably join in.
"Whenever I want to kick a bit with my boys, then all the other kids want to join in. And that's great. Then the dads also want to get involved and have a nice rugby chat."
He'll make the time to chat because Morné Steyn knows exactly what it means to all of them – himself included – to be part of this rugby family.
The return of the Vodacom RED Father and Son Campout promises to be bigger and better. Vodacom RED VIP clients and their sons will be given the exclusive opportunity to camp under the highveld skies at Loftus Versfeld. Great food, sweet treats, and other delightful eats will be provided, as well as fun and exciting activities to encourage quality time for fathers and their sons.
As a Vodacom RED VIP client, if you want to join Steyn at Loftus Versfeld and "Be That Dad", then register on the Vodacom Bulls App between 10 January and 11 February 2022: https://bit.ly/BeThatDad2022
https://www.afgri.co.za/wp-content/uploads/2020/02/2020_01-AFGRI-Vodacom-Bulls-Composite-Logo-web.jpg
2334
2334
deborahchapman
https://www.afgri.co.za/wp-content/uploads/2013/04/AFGRI-Logo.jpg
deborahchapman
2022-01-10 11:09:06
2022-01-10 11:09:06
Steyn shifts focus from Bok kicks to Be that Dad